Training
Turbine Speed Governor Training Course
Since 1984 we have offered a staff training opportunity in a particularly challenging area of the hydropower industry: the turbine governors. The Turbine Governor Course was established and has been attended by operation, maintenance and engineering staff from all the hydropower generating companies in New Zealand, plus from companies in Australia, Indonesia and Fiji.
This course has evolved over the years and in 1997 it was enhanced by the use of a governor training rig, installed at Aratiatia Power Station, which is utilised for practical demonstrations of governor performance by carrying out the most important governor tests. This course has been very successful and it is run regularly on average every other year.

Governor test demo (Maraetai)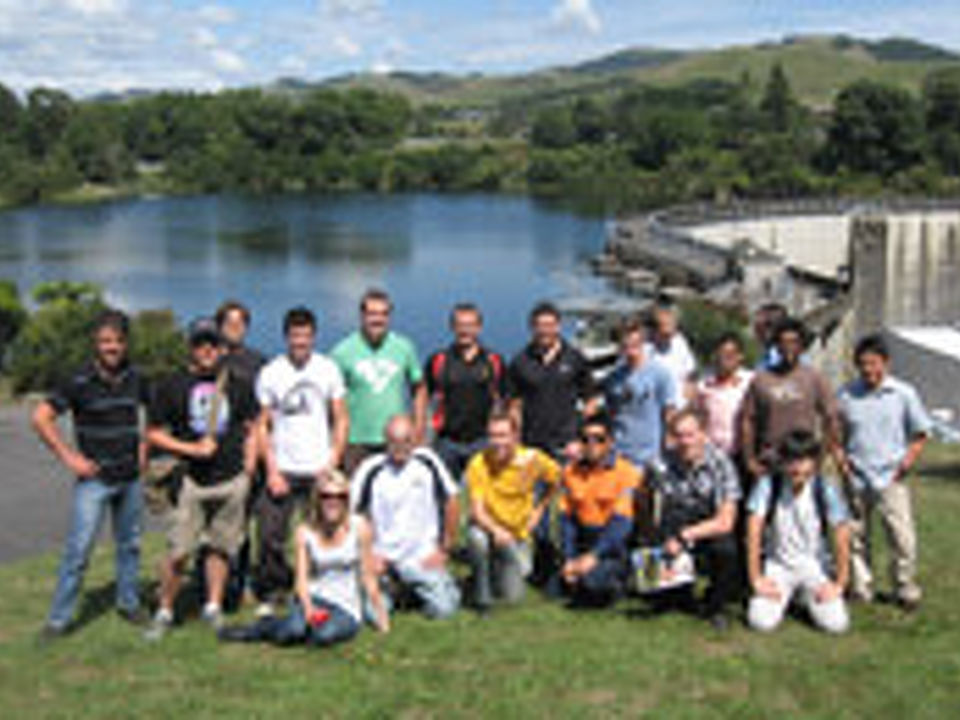 32nd H. T. Course (Karapiro)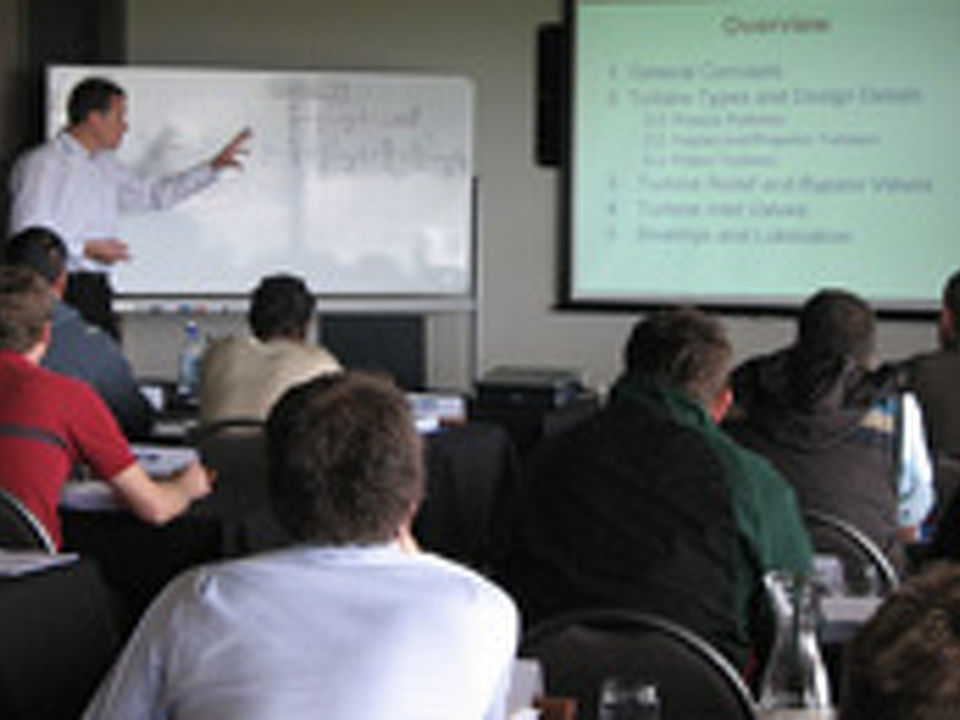 31st H.T. Course (Hamilton)
---
Hydropower Technology Course
In 1993 an additional training course was established for training graduate engineers entering the hydropower industry: the Hydropower Technology Course. This course, which is normally run twice a year, has also been very successful, and attracts not only graduate engineers, but also business analysts, control centre operators, traders and engineering technicians.
Its success is attributable not only to its coverage of all the facets of hydropower plants (Civil, Turbines, Generators, Transformers, Switchgear, Control, Protections, O&M, Economics, etc), but also to the fact that the course notes have been compiled and are presented by hydropower professionals over a duration of only two weeks, and are complemented by visits to hydropower stations.
This course has been included as a standard block in the training programme for graduate engineers recruited by Transpower, Mercury and Meridian Energy. Among other companies, which regularly send their personnel to this course: Trustpower, Genesis Energy, Contact Energy, Snowy Hydro, Hydro Tasmania, Australia Gas and Light, AECOM, PB Power and MWH.
Over a period of two weeks, this course covers:

 
PART
TITLE
   

I

Civil and Hydraulic Structures

II

Hydraulic Turbines / Governors

III

Generators

IV

Auxiliary Plant

V

Cables and Earthing Systems

VI

Transformers

VII

Switchgear

VIII

Control-Protection Systems

IX

Telecommunications

X

Operation and Maintenance

XI

Hydropower Economics

XII

Earthquake Engineering

XIII

Soft/Hardware Systems – I.T.

XIV

Hydropower and the Environment
The Turbine Governor and Hydropower Technology Courses have also been customised according to the Client's requirements and run at the Client's locations, e.g. for Snowy Hydro Ltd, Transend, PT Inco, Fiji Electricity Authority, BC Hydro, Nalcor, CAL Energy, and First Gen
---
Generator Load Rejection Seminar
This half day seminar covers the reasons for carrying out load rejection tests and the precautions to be adopted to manage the risks associated with this type of test.
It deals also with the specific aspects of the test, such as the test planning and procedures, the various plant transient parameters to be recorded, the relevant instrumentation and how the test should be documented.

---
Turbine Hydraulic Model Test Seminar
This seminar provides an overview of turbine hydraulic model testing and covers all relevant aspects. The presentation can be customised to the audience's requirements.

  Our participants often comment that the Hydropower course is the best technical training they have ever received, and we find it has been valuable for new graduates to principal engineers and everyone in between.  
Tim Le Couteur
Engineering Division Manager
British Columbia Hydro and Power Authority, Canada