About Us
Background
In April 1999 Giuseppe (Jo) Grilli founded Hydropower Engineering Ltd in Hamilton, as an engineering practice serving the hydropower companies in New Zealand. From 1999 to 2007 Jo Grilli worked as a sole trader for major generating companies in New Zealand, Australia, Indonesia, Canada and Fiji.
In March 2008 Joachim (Joe) Pott joined Hydropower Engineering as a partner, thereby expanding the scope of the engineering practice by his expertise on hydraulic machinery and equipment. Joe is based in Wellington.
Chris Lucas joined Hydropower Engineering as a partner in April 2022. Chris brings with him specialist expertise on hydraulic gate detailed design, as well as his extensive expertise on hydraulic machinery and dam safety. Chris is based in Auckland.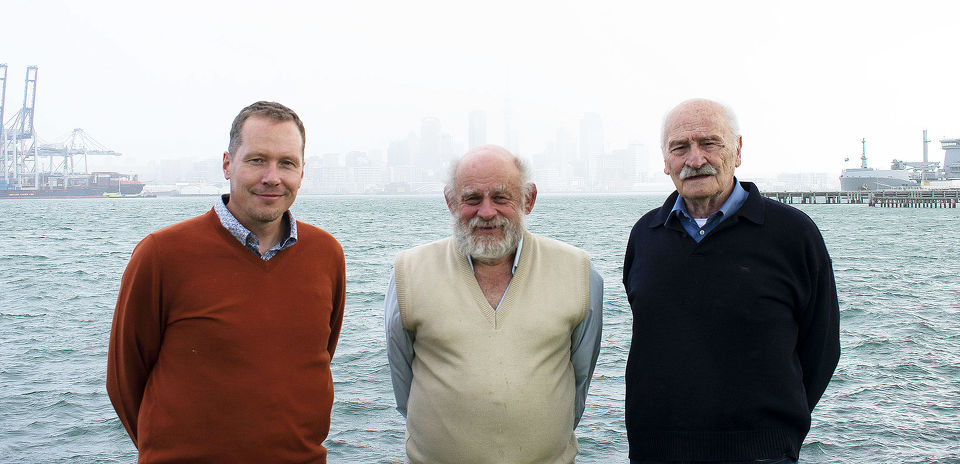 Joachim (Joe) Pott | Chris Lucas | Giuseppe (Jo) Grilli
---
Our Services
Our expertise covers several aspects of hydropower plants and components from water to wire (hydraulic gates, valves, turbines, generators, turbine governors, excitation systems, transformers, switchgear and station auxiliary plant).
Our long hands-on experience in the hydropower industry and the depth/breadth of knowledge that comes with it, allow us to serve hydropower utilities for developing new projects, investigating operational or maintenance problems, assessing performance and reliability of critical equipment, and staff training.
Hydropower Engineering enjoys a very high reputation in the hydropower industry to the point that it is considered a "consultant of choice" by some leading hydropower companies and engineering consultants.

---
Our Approach
Hydropower Engineering's cornerstones are engineering knowledge and experience, efficiency, quality and professional ethics, through which we deliver effective engineering solutions to our clients.
After establishing an effective line of communication with our clients, our main goal is to deliver our services to meet the time and budget, as well as the technical and statutory requirements.
We achieve these objectives by working closely with our clients and by using to the full extent the engineering knowledge and experience that we have acquired through our academic training and many years of "coal face" work at leading hydropower utilities.
In addition to our own expertise in mechanical and electrical engineering we can provide other required specialist skills through our partnership with several hydropower specialists we have been associated with over the years.
This pragmatic approach, which we have practiced for over two decades, has earned Hydropower Engineering the trust and respect from hydropower companies, leading to a reputation of cost effectiveness and hydropower engineering excellence.

  Hydropower Engineering have undertaken a wide variety of assignments for Meridian Energy over the years, and from my perspective I have relied on a number of occasions on the mechanical and electrical hydropower technical expertise that Joe Pott and Jo Grilli from Hydropower Engineering offer to provide technical advice, carry out feasibility studies, undertake engineering reviews, undertake investigations, and scope, manage and carry out on-site testing. You would be hard pressed to find anyone in the Asia Pacific region with the depth and breadth of hydropower engineering skills and experience that these guys can provide.  
Malcolm Preston
Strategic Engineer,
Asset Management Team
Meridian Energy Ltd